November 2022 Remnant Clearance Sale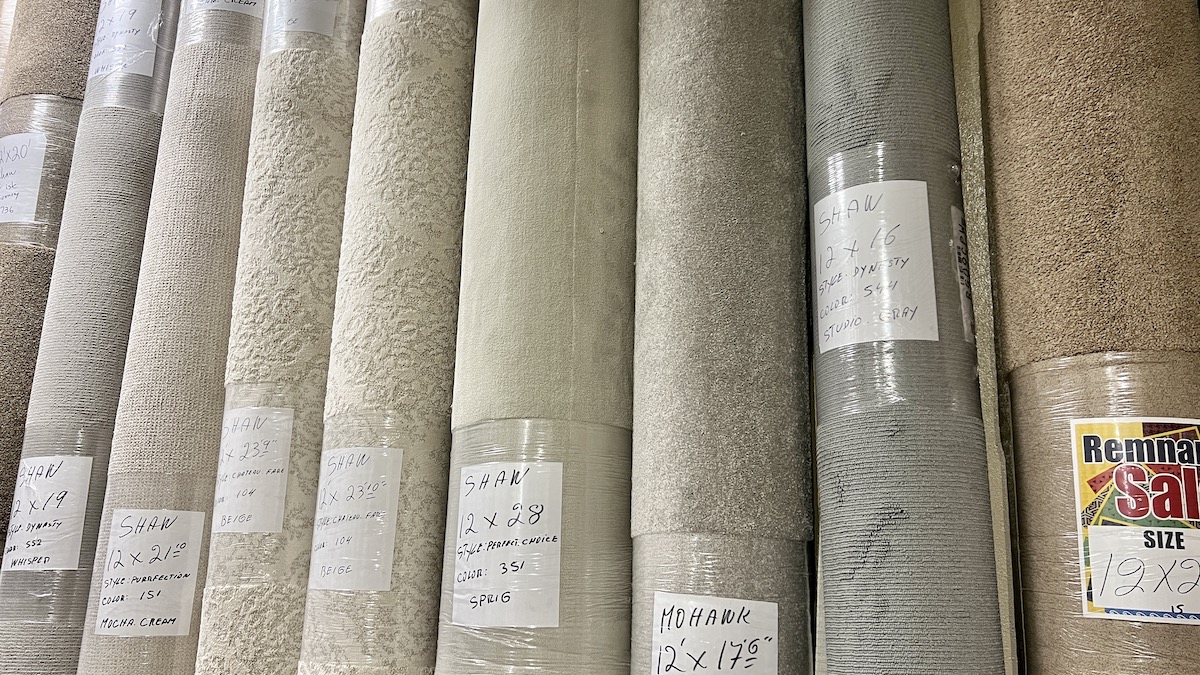 Sale Dates: November 1st – November 30th
Mark your calendar! We are pleased to announce that we are having a Remnant Clearance sale for the entire month of November!
If you're new to shopping for carpet and rugs with us and don't know what a remnant is, we have summed up information about remnants in a previous blog post here.
A remnant is referring to a piece of carpet usually smaller than 12'x20'. It is also referred to as the "end roll" and can be used for a small room, runner, or area rug.
For us, the term "carpet remnant" has come to mean any piece of carpet that is sold at a discount.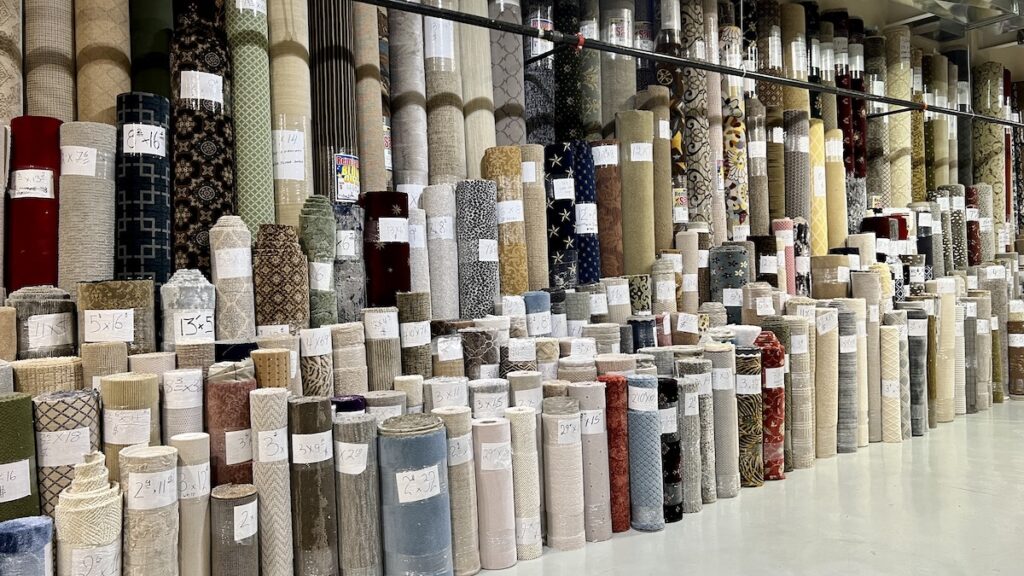 What will be discounted during the clearance sale?
Padding, fabrication, and labor will not be discounted, but Milliken, Stanton, Masland, Fabrica, Shaw, and many more remnants from our favorite manufacturers will be discounted between 20%-50%. Some exclusions will apply.
What will I need to know at the time of my store visit?
You will need to know your rug or room size (width x length) to effectively shop our remnant inventory. Our inventory will be sold first come first serve, and in order to secure a piece, you will have to pay for it in full.
We recommend having us measure your room prior to coming in to shop for remnants so we have all the information to effectively shop our inventory.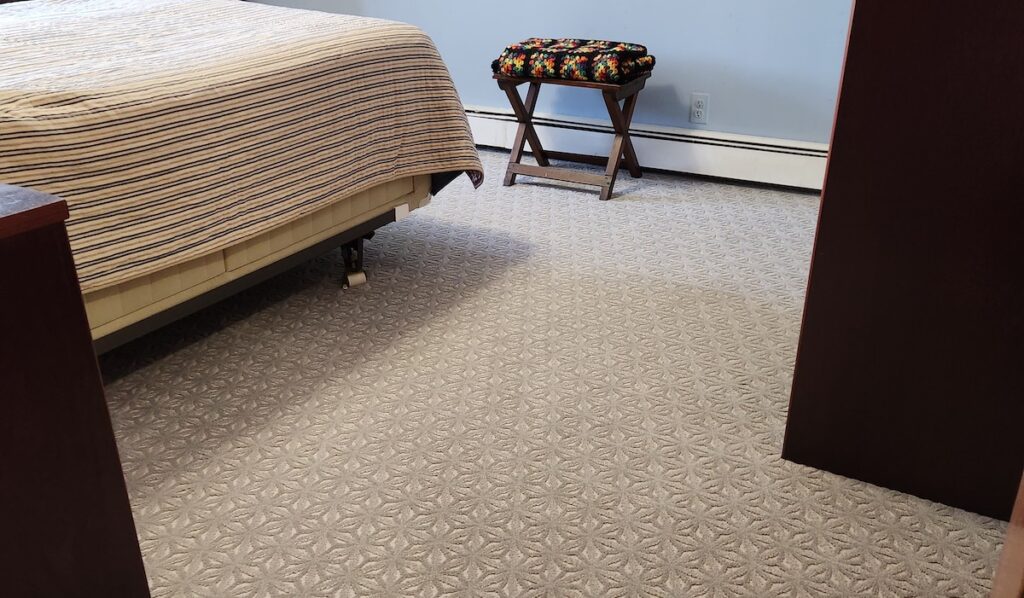 A recent wall-to-wall Installation with one of our Tuftex nylon remnants. We refer to remnants as hidden gems because you can get a great carpet for less.
What will be the rug fabrication lead time for a rug made out of a remnant?
Our rug fabrication lead time for in-house poly-binding or serging is 6-10 business days from the date the order is processed. Once your rug is complete, we will contact you with a pickup date from Carpet Time.
Carpet Time Tip:
Struggling with what your rug size should be? Use painter's blue tape to map out where you want the rug to cover to help determine your size.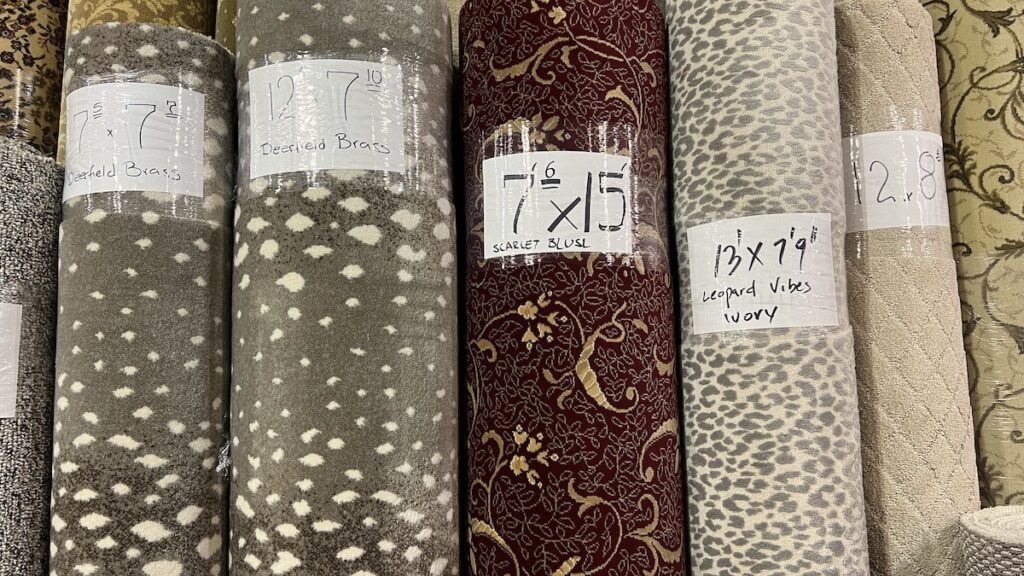 The animal print trend is strong and these remnants make great area rugs!
Do you give samples of remnants?
We do not cut samples from the remnants. They are sold as is by the entire piece. All remnants will be final sale.
Are carpet remnants the only thing on clearance?
No, we also have select sheet vinyl/linoleum remnants on sale too!
What will be the installation lead time during the clearance sale?
To ensure quality work, we do not subcontract our work for any installations. All our mechanics work directly for Carpet Time. For that reason, our installation lead time can be booked a few weeks. The lead time could be up to 2+ weeks.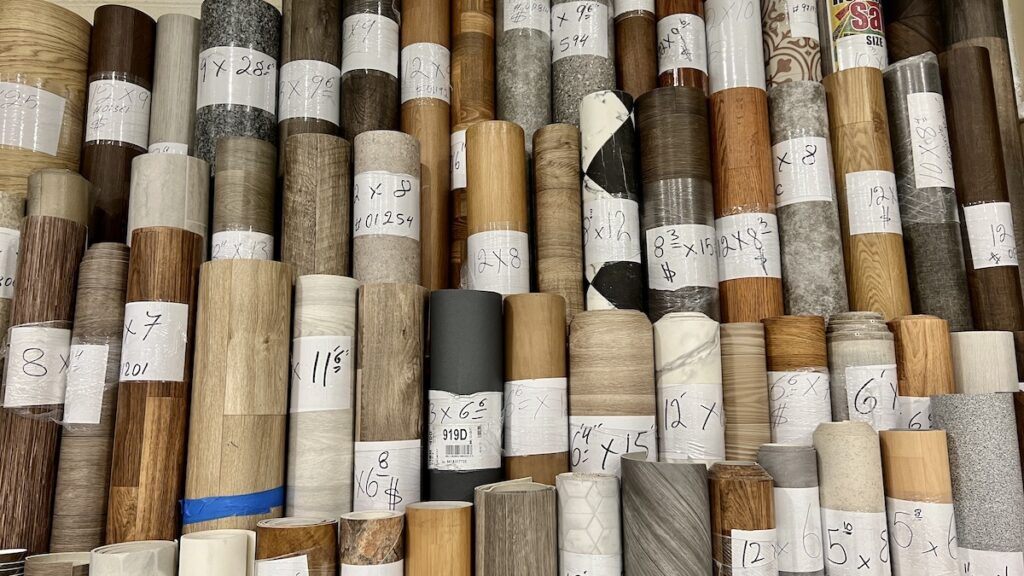 Will I need an appointment to shop the sale event?
For only the month of November, if you come in with the proper sizes/measurements, you don't need a store appointment to shop our remnants. Clients will still need an appointment to shop any other part of our store or special orders from our showroom displays.
We still recommend making an appointment in advance to shop remnants as there may be a long wait time if you don't have an appointment and our team may be working with other clients.
What else do I need to know?
The only way to take advantage of the sale is to shop in person at our store. This won't be available online!
Contact us about measuring your space or make a store appointment prior to visiting as it will make your shopping experience 100x easier.
A Moment of Thanks!
Lastly, we want to take a moment of thanks this November and send a note of appreciation to all our clients, vendors, employees, and community. We will be making a donation to City Harvest that will rescue and deliver 2326 lbs of food and feed food-insecure New Yorkers.
Ready to save money on remnants?
Call us at 718-472-4740 to set up an appointment to measure and visit our store.