Custom-Shaped Rug Spotlight: Fireplace Cut-Out
Custom rug by Carpet Time around our client's fireplace
If you are looking for a new rug and have a room with a fireplace, a custom rug is the solution!
Hello Autumn! This Saturday will be the official first day of fall. Time to break out our favorite sweaters, drink pumpkin-spiced lattes, and cozy up our homes.
We can custom cut and sew any broadloom carpet to fit around your fireplace. The end result is a custom rug perfectly suited to fit your space, style, and hearth!
Keep reading to learn about the process and two installation spotlights featuring fireplace cut-out rugs by Carpet Time.
What Size?
We can set up an appointment for our estimator to come out and measure prior to scheduling a store visit or feel free to use the below template to measure and bring in your size.
We can review the size and scope of work during your showroom appointment!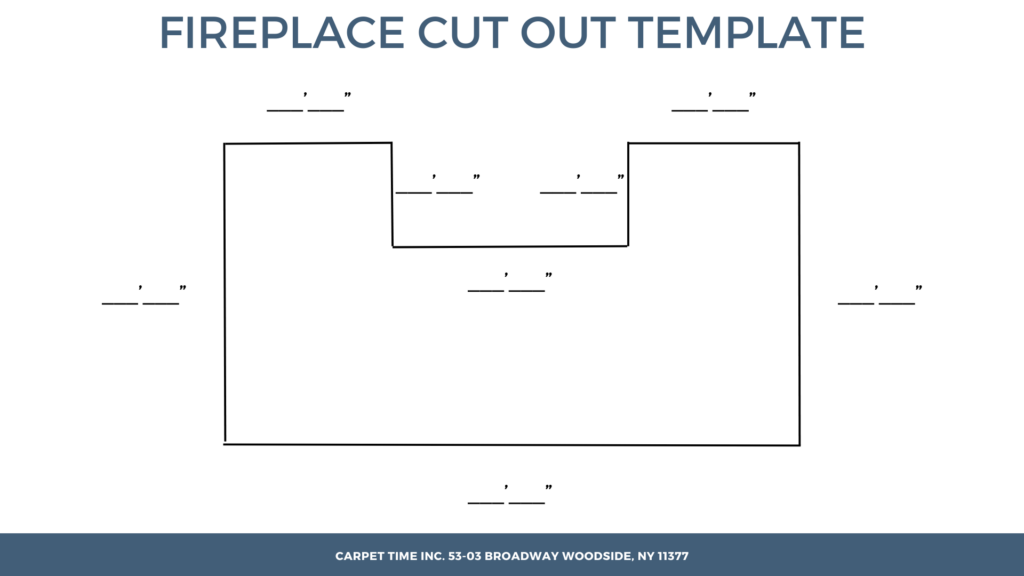 Select Your Carpet and Fabrication
This is the fun part! Make a showroom appointment to review your carpet and fabrication options. We can show you various wool, sisal, and synthetic carpet styles and patterns.
Some of our favorite selections of wool and sisal carpets are by Prestige Mills, Stanton Carpet, and Fibreworks.
Upper East Side Installation Spotlight
Carpet Time collaborated with interior designer Emily Butler on her Upper East Side project.
This elegant room called for an oversized custom-cut rug that highlights the fireplace. Emily specified a sisal rug with a subtle woven diamond pattern.
Below is a sneak peek of the custom fireplace cut-out rug with furniture, custom drapes, and artwork designed by Emily.
Follow her on Instagram @emilycbutler for the final reveal! Thank you Emily for working with Carpet Time to achieve your outstanding design!
Remnant Installation Spotlight
Short on time or on a budget? Shop our remnants!
Our customer made an appointment to shop our in-stock remnants for a custom rug around her fireplace. The trick with remnants is you don't know what hidden gems we will have the time you are visiting.
Read our previous blog post here to learn more about shopping for remnants.
Our customer found a Stanton Bahia remnant for their living room to be custom-cut to fit around the fireplace. A fabulous rug at a fabulous price!
Ready to find a rug to fit around your fireplace?
Call us at 718-472-4740 to set up an appointment to visit our store.