Stair Runner Ideas: 5 Before & After Transformations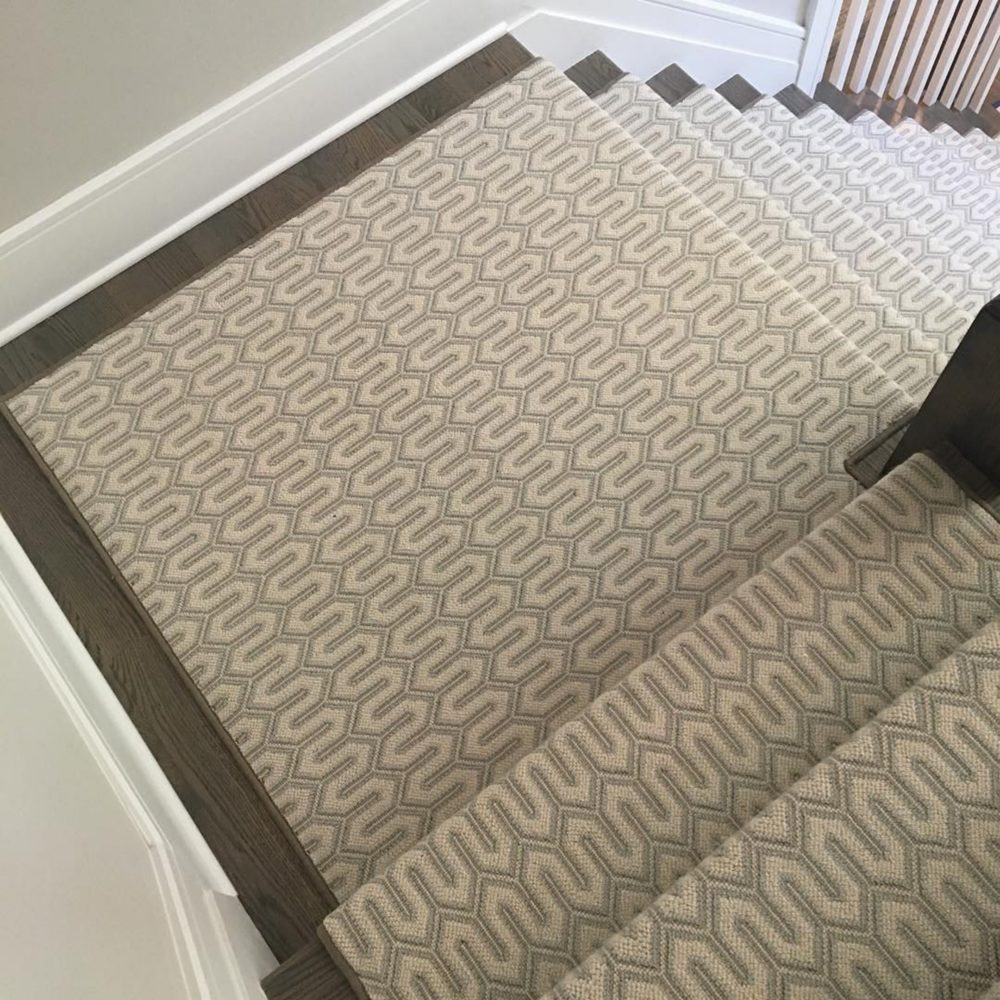 "How much will a custom stair runner cost with installation?"
This is a question we are frequently asked and a tricky one for us to answer without some key information.
We need to schedule a store appointment to learn more about the type of staircase you have, go over measurements, and review what type of carpet and edge fabrication you select.
Below are five examples of different stair runner installations by Carpet Time's skilled mechanics. They all varied in staircase design, complexity, and the individual needs of our clients.
1. Townhouse Stair Runner Transformation
With three flights of steps and small children, these slippery hardwood steps needed a runner to make them safe for the homeowner's family.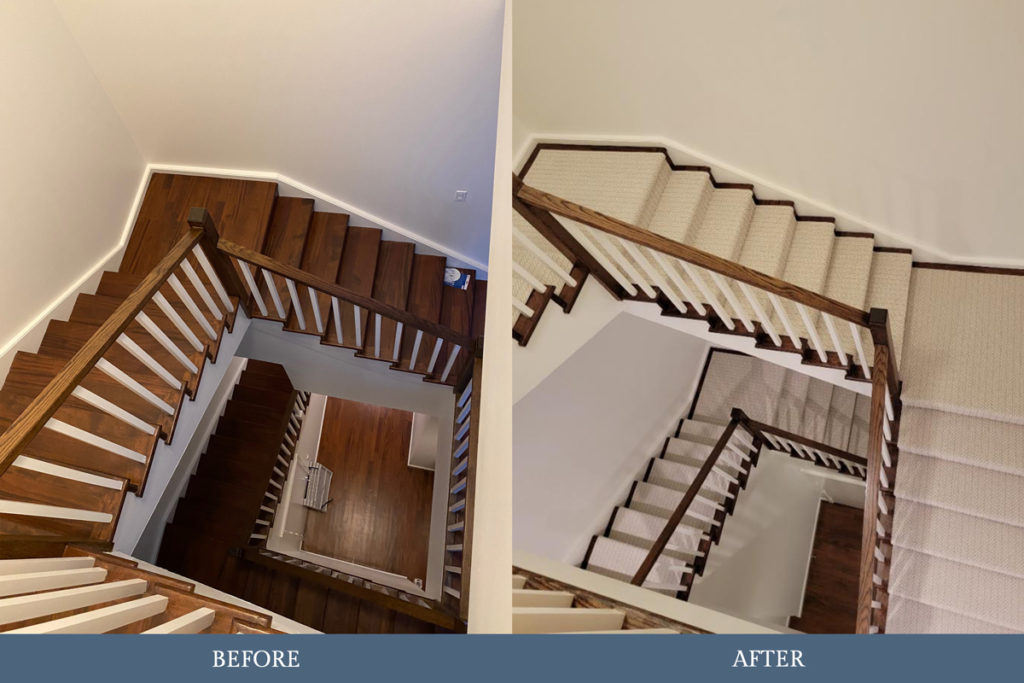 The difficulty of this installation was wrapping the carpet around the bottom landing and steps. The homeowners worked with Light + Air Design and Carpet Time to achieve this safe and beautiful wool herringbone runner in their new home.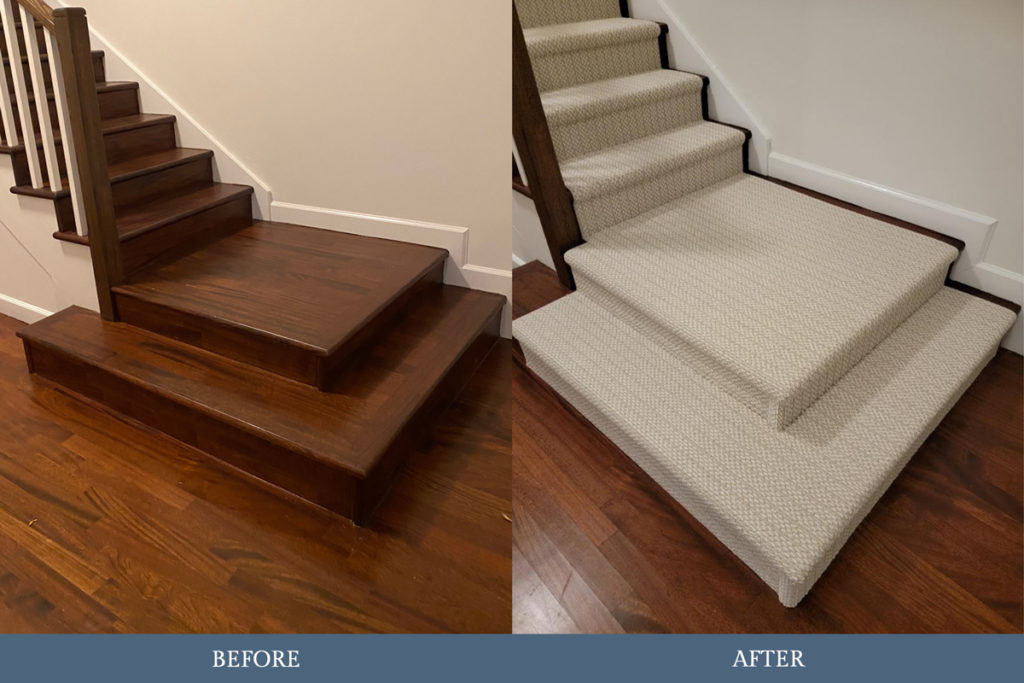 2. Curved Stair Runner Transformation
A curved staircase does not have a landing but instead features a continuous set of stairs that follow the bend of the banister.
Curved staircases are often considered to be traditional. However, they can also be used with a more contemporary and modern designed runner to achieve a different look.
Our client was looking for a statement runner to go with their modern chandelier. The winner was Latest from Kane Carpet's Lafayette Collection.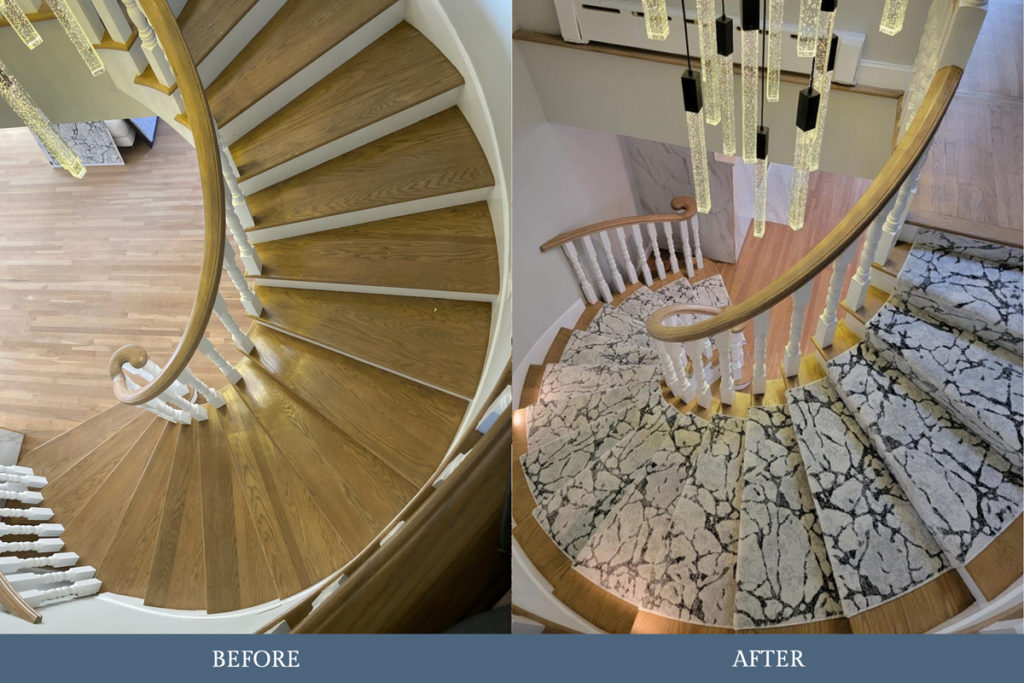 3. Straight Stair Runner Transformation
Straight stairs offer a basic look, but they can be made more visually interesting with a stair runner.
Animal print is extremely popular and looks amazing as a runner on steps. Lisa Frantz Interiors chose the iconic Deerfield carpet for their client and the end result is simply stunning.
Get inspired by the animal print carpet trend in our previous blog post here!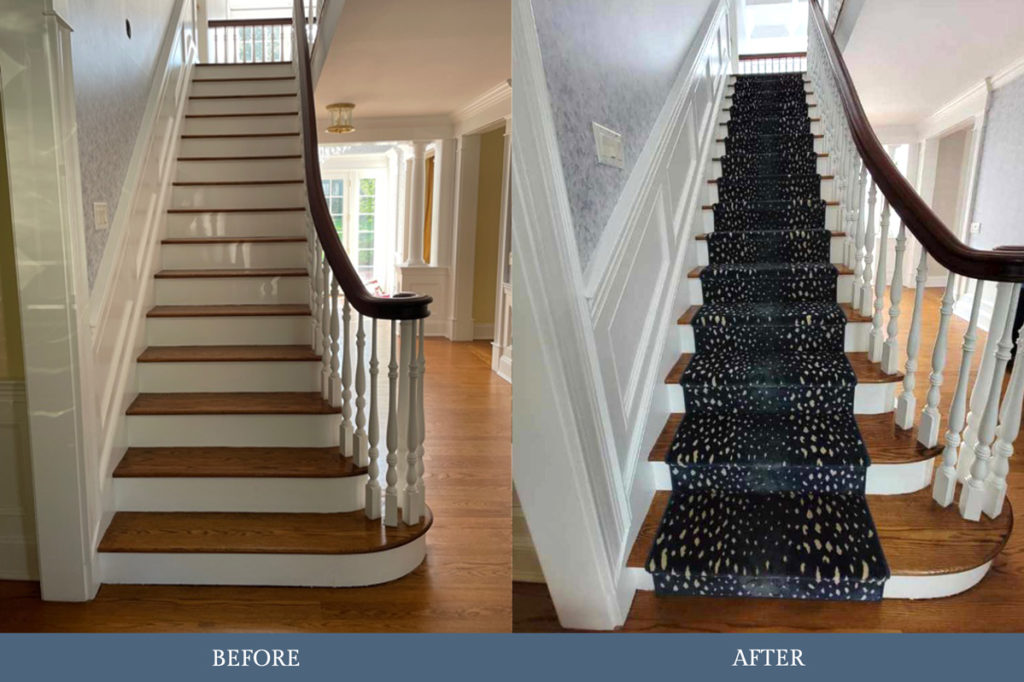 4. L-Shaped Stair Runner Transformation
The main feature of an L-shaped staircase is a 90-degree turn after a landing.
While the landing is commonly in the middle of the staircase, it can be located closer to one end or the other.
You can have fun with a stripe or a patterned runner on L-shaped steps. In this case, our client wanted a simpler textured overall wool style called White Noise to compliment their home.
5. Basement Stair Runner Transformation
Basement steps do not have to be unappealing. Our client wanted to transform their basement staircase with a family-friendly and easy-to-clean runner.
In the event of a flood, they asked us to stop the carpet before reaching the bottom floor. The stain-resistant nylon stair runner looks beautiful with the wood floor and wall paint color.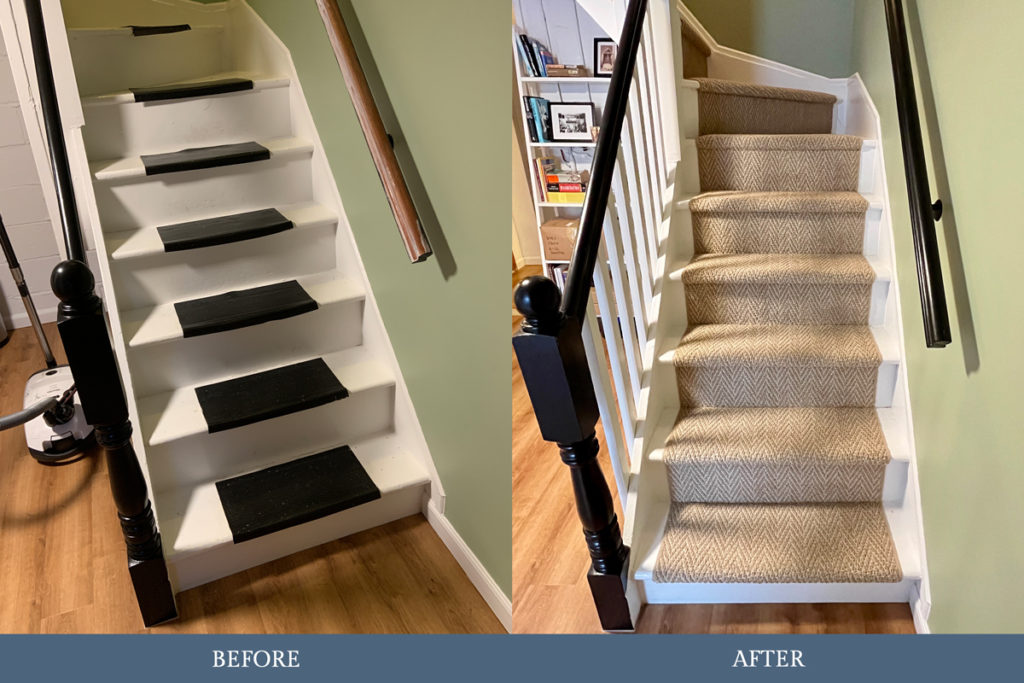 Every one of our stair runner installations is custom fit to the individual staircase.
We can give you an estimate if you come prepared with the following information:
Photos of your staircase
Number of steps
Width of steps
Approximate size of landings
Desired runner width
To get started on your stair runner project with Carpet Time, please contact us for a store appointment.