The Top 10 Carpet Questions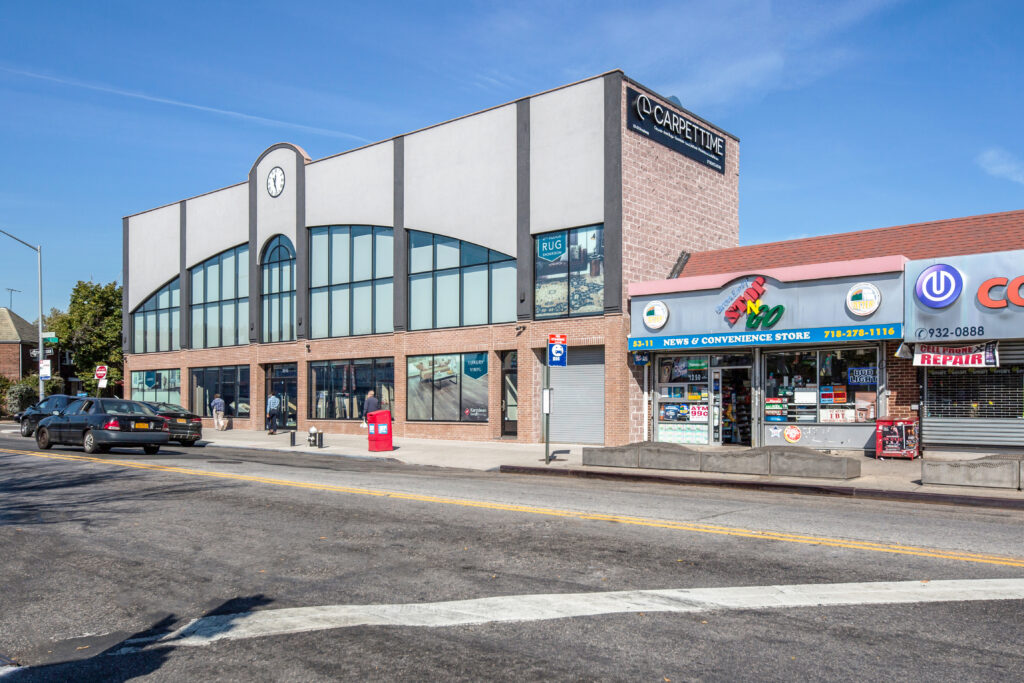 Shopping for carpet?
We've put together a list of the most common questions we get asked about shopping for carpet with Carpet Time.
1. I need to pick out carpet. Where do I start?
We offer in-person appointments in our showroom in Woodside, Queens to shop our in-stock inventory or special order options from some of our favorite manufacturers such as Prestige Mills, Stanton Carpet, Couristan, Masland, and many more. Feel free to bring your photos of the room, fabric/paint swatches, or any Pinterest/Instagram inspiration photos of what you are looking for.
Carpet Time is working by appointment only so please call or email us in advance for an in-store appointment. We will ask a few questions to learn about your project and get the process started. It may require us to send our estimator to measure your space first prior to an in-store visit. We do not offer a shop-at-home service where we bring samples.
As much as we love online shopping for many things, we do not recommend choosing a carpet online from a photo. Carpet is a textile and you need to see the quality, texture, and color in person. Download our free carpet guide here to learn more about carpet and us!
2. How much are carpets, labor, pad, etc?
We frequently get calls asking us how much is a room of carpet or a custom stair runner. We do not quote prices over the phone without having more information and an understanding of the scope of work. A free estimate is given in person at our store, provided we have proper measurements (width x length) and product to quote and discuss the details of your installation.
If you would like to skip a step, we highly recommend having us measure your space prior to an in-store appointment as it eliminates one step in the process.
After sending our estimator, we will have a full understanding of your project and be able to provide a quote and make recommendations during your store visit. Carpet Time will send a quote for a job after measuring the space and confirming the scope of work. The carpet price is for material only and does not include pad, installation, fabrication, etc.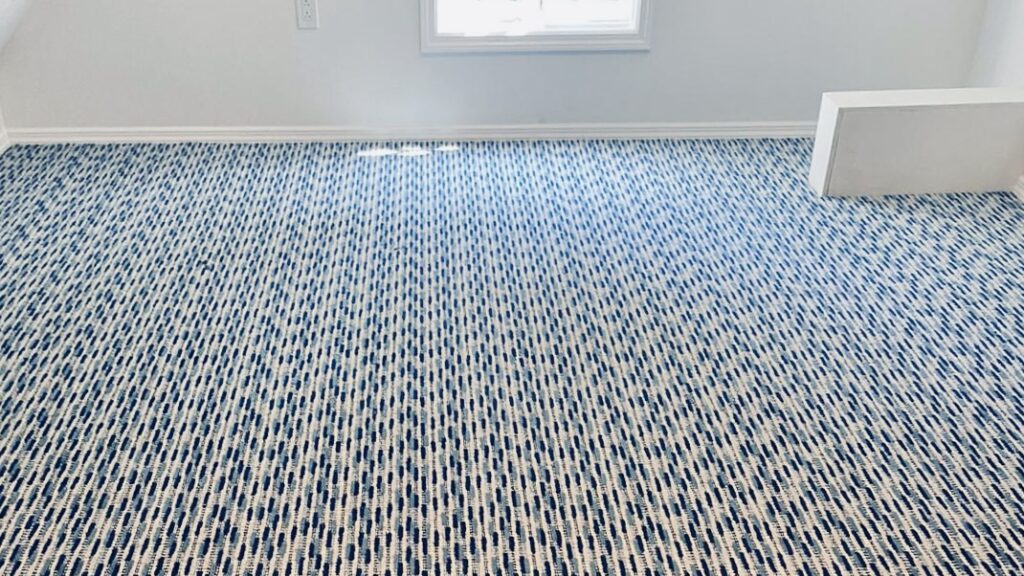 3. My home is under construction. How far in advance do you recommend shopping for carpet?
We are still experiencing certain delays related to containers and shipping. If you can plan ahead we recommend shopping for your project at least 1-2 months in advance. Some of our manufacturers like Fabrica or Milliken are made to order in America. Once the carpet is ordered it goes into production at the mill and can take up to 6 weeks.
4. I have an active home with kids and/or pets. Which carpet do you recommend?
There are many styles and qualities that could work from wool to nylon. We recommend a carpet with texture or with more than one color and a built-in stain treatment. A favorite recommendation is a soft Berber from Anderson Tuftex called Purrfection made of Anso high-performance solution dyed nylon.
Many companies now offer carpets produced with kids and pets in mind so your carpet will look great for years to come. We can guide you through options based on your needs and budget.
5. My flooring looks lighter/darker in person than the sample I viewed in the showroom. Is that normal?
Yes, everything viewed in our showroom will look different in your home due to lighting. Lighting can change your perception of color and the lighting environment between our store and your home will vary. We can order or give swatches to check the carpet in your home at various times of the day (check during natural daylight versus artificial lighting at night).
Samples are intended to show pattern and color. If color is critical, we highly recommend a Cutting For Approval (CFA). Learn more about CFAs in our blog post – What is a CFA?
6. What is your installation lead time?
To ensure quality work, we do not subcontract our work for any installations. All our mechanics work directly for Carpet Time. For that reason, our installation lead time can be booked out a few weeks but call us as we offer a stand-by list and can move you up in the event of a cancellation.
Lead times are project and material specific. Some carpets come from overseas and we will not be able to schedule your installation until the container arrives.
If you have a tight lead time, we will recommend moving quickly and setting up an appointment to measure first prior to coming in to shop our in-stock inventory. Our in-stock carpet inventory has the quickest lead time for an installation.
7. Do you work in condos and coops that require a COI?
Yes, we are familiar with many condos and co-ops in New York City that have strict rules for installation and insurance requirements. Some buildings may require approval and a Certificate of Insurance in advance.
Before shopping for carpet it's best to become familiar with your building's policies and requirements. We can provide a Certificate of Insurance (COI). We need 2-3 days to prepare a COI after receiving your building's specific COI requirements.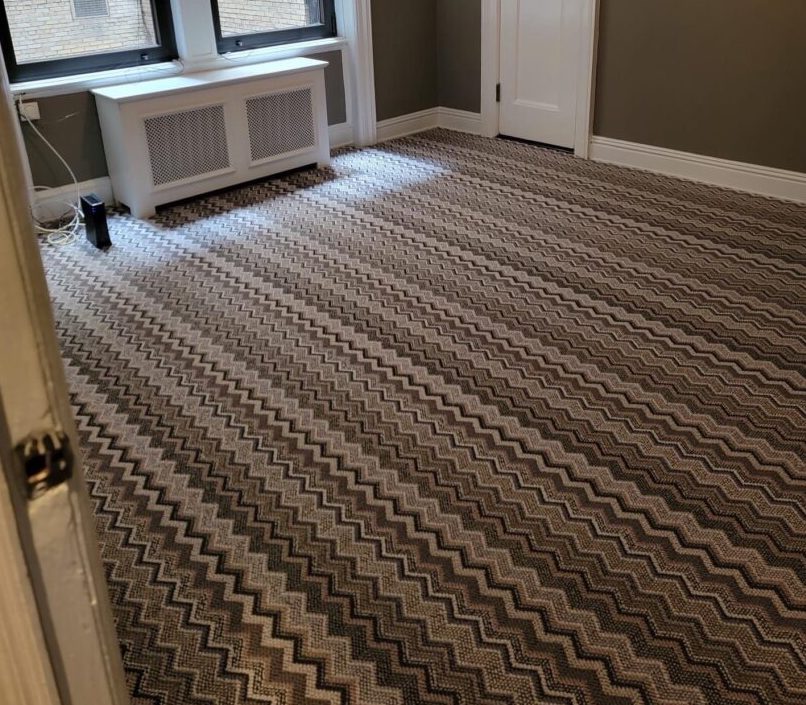 8. Will you remove and dispose of old carpet?
Yes, but we only remove and dispose of old carpets as part of a new flooring installation. In other words, we don't go to jobs solely to remove and dispose of old carpets. There is a charge for removal and disposal. If you don't pay for disposal we tie the old carpets in bundles and leave it where we are told to put the garbage.
9. Do you professionally clean carpets?
We do not clean carpets but please give us a call and we can recommend someone local in NYC who does. They have no affiliation with Carpet Time and give their own pricing.
10. I live out of state, but need flooring for my New York residence. Do you work with people out of state?
Yes, please reach out to us and we will ask a few questions to see what is possible. We often get phone calls from family members looking to find carpet for an elderly relative or carpet replacement for a home to sell in New York City. We are not a shop-at-home service but we can provide some guidance to work with you. A showroom appointment may still be required depending on the project.
Ready to find the right carpet for your home?
Call us at (718) 472-4740 or contact us to make a store appointment.